How to Set up Google My Business and Why You Should
Find out how your company can benefit from having a Google My Business profile
What is "Google My Business" anyways?
Google puts it best on their website:
Google My Business is a free and easy-to-use tool for businesses and organizations to manage their online presence across Google, including Search and Maps. If you verify and edit your business information, you can both help customers find your business and tell them your story. https://support.google.com/business
Why You Should Setup Google My Business
One of the primary reasons you should set up Google My Business is to allow potential customers to find your business. How are customers supposed to know about your business if it does not show when they search on Google? With a profile created, you can show up in search results and display on Google Maps.
Help People Know Your Company Exists
Let's look at two examples of how Google My Business can help two different types of businesses. The first business is a local pizza place. When someone searches for "pizza near me," "food near me," or "places to eat lunch in [City]." Google will show a list of restaurants near the person searching (see below). For each business, it will display the company name, address, review rating, and possibly a phone number too.
When searching: "pizza in San Diego"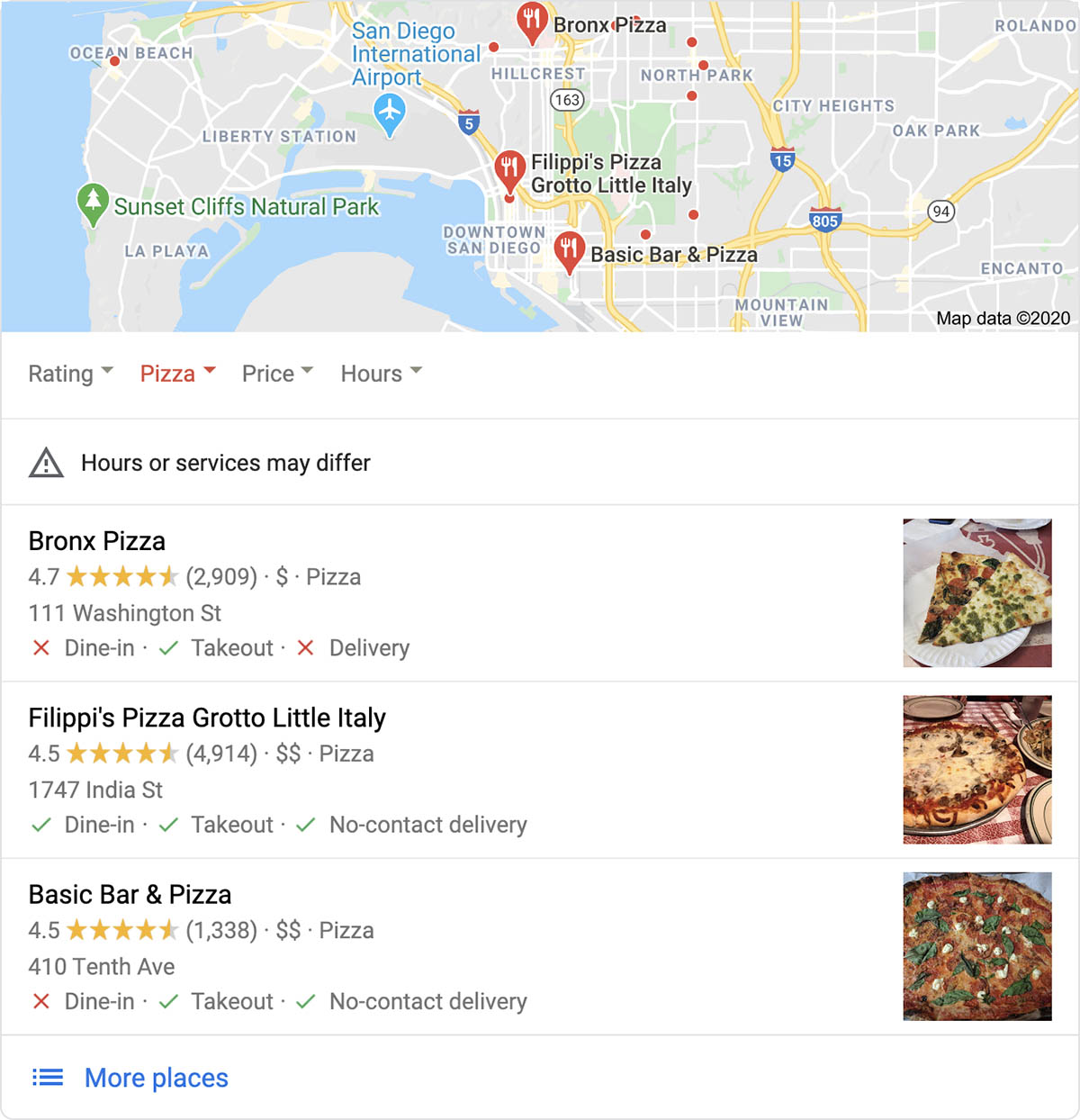 Now let's look at a service-based business that services an entire area. These are companies that go to the customer – businesses like plumbers, electricians, painters, and house cleaners. People are going to search for similar things as before. They will search for things like "plumbers near me," or "electricians in [City]." Google, in this case, will likely show the company name, phone number, and review rating. Google may or may not display an address, depending on how you have your business profile configured.
When searching: "electricians in Seattle"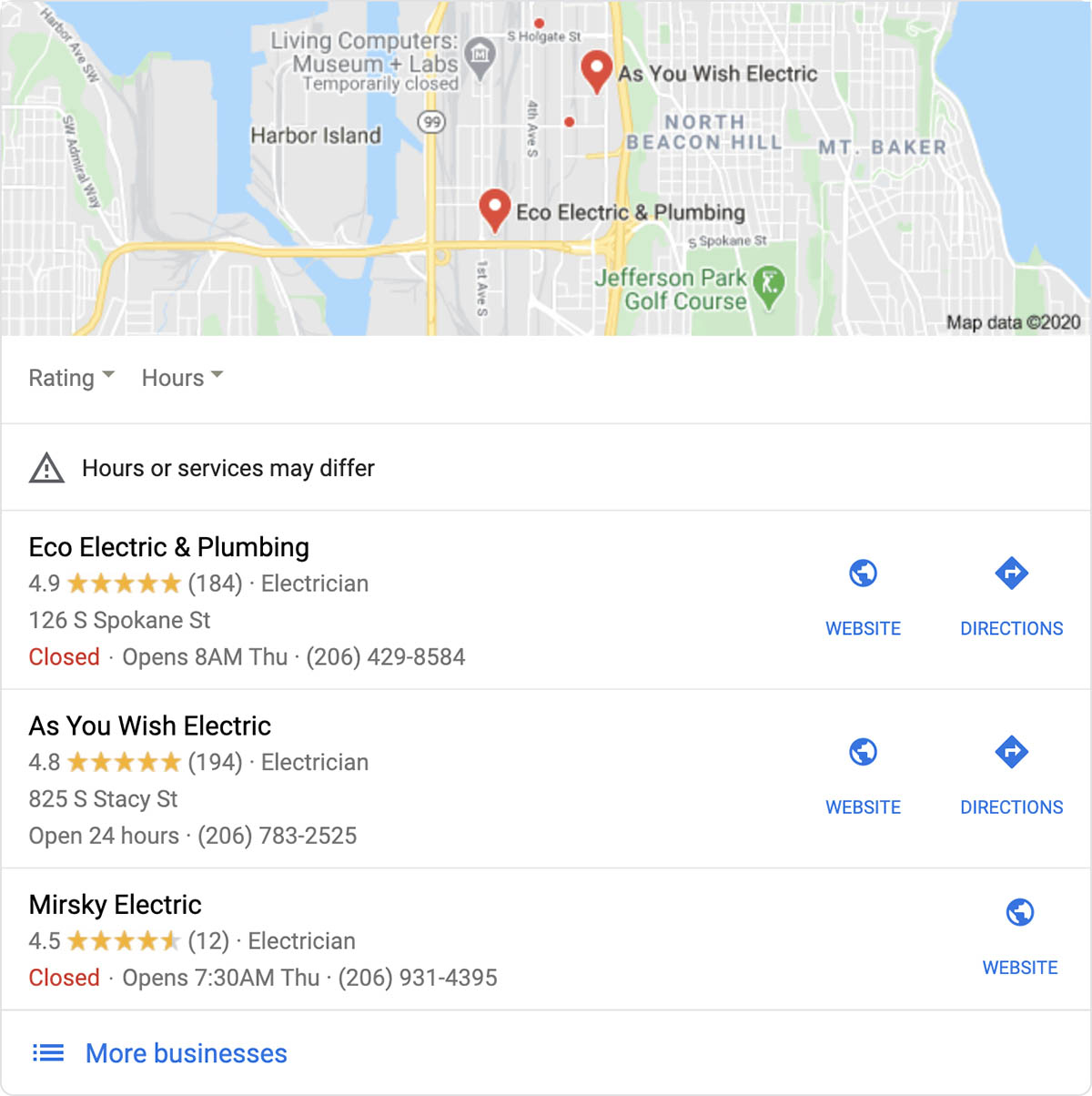 This section on the page is known as and commonly called "Google Map Pack." The map pack will show at the top of the page below the search bar and above the other results.
In both cases, without a Google My Business listing, there are no guarantees a business will show up, or the information will be accurate. When someone clicks on the company name, it will show more details that the company has provided via Google My Business.
Local SEO (Search Engine Optimization)
Another essential reason to set up Google My Business is to help with your local SEO by having another source confirming your name, address, and phone. Also referred to as NAP by SEO professionals. Your NAP must be consistent on your website, social media, and business listings, or Google might not show your business when people are searching. Google could do this because they are unsure of your location or contact information.
Help Customers (and Potential Customers) Find and Contact You
Another reason to have a Google My Business is so people can find and contact you. If you are a business where customers come to you, they will need to know how to get there. Or if your business services an area, they need to know how to call you.
Many times customers may know your business name but not sure how to get there. They will then Google your business name. If you have a Google My Business set up, Google will very likely show your business profile with all your contact information you have provided. Without one, customers have to hope Google knows where it is, or they can find a website that has your address or phone number on it.
What people will see when they search for your company name

What you will see will depend on how much information you provide when creating your business profile. This section of the page will display on the right side on desktop and the top on mobile. It is also possible Google will show different amounts of data depending context of what it thinks is relevant to the user.
Customer Reviews
When you create a Google My Business, it will allow people to leave reviews about your business. Your rating, shown as stars, will be displayed almost everywhere that Google will show your business. When you do a fantastic job, people will want to leave a review allowing others to know how amazing your company is. If you do not have a Google My Business listing created, they very likely will not be able to leave a review. Another thing you can do if you have a listing created is to respond to bad reviews to help correct the situation. While having bad reviews is not what anyone wants, but if people can see the company reached out and tried to rectify the issue, it will look more favorable for the company.
Show Your Products and Services
A great thing you can do in Google My Business is to add your products or services you offer. You can add the product name, price, description, image, and a link to your website. These will show in your business profile in most cases where Google shows your full business profile. Adding products offers an excellent way for customers to know what your company offers and how much it will cost.
Let People Know Your Business Hours
Nothing is worse than driving to a business only to find out they are closed, or the hours listed online are incorrect (and are still closed). With Google My Business, you can set regular hours and add special hours. Special hours are primarily for setting your holiday hours, but you should add them for any time your hours are different then they are regularly. Now when people search for your business, it will display the correct hours.
How To Create a Google My Business Listing
Sign Into a Google Account (and Possibly Create One)
You will need a Google account to create a Google My Business listing. We would recommend you create a Google account with a company email if you have not already. The email does not have to be a Gmail email address to have a Google account. You can create a Google account with any email address you already have.
Start The Creation Process
After signing into your Google account, go to https://www.google.com/business/, and click "Manage Now." The first thing you will need to do is search for your business to see if Google already knows about it or if you cannot find your business, click "Add your business to Google." Next, Google will ask you a few questions about your business.
Google will likely ask you for an address or service area, depending on your type of business. They will also ask for your company's website and phone number. If you do not yet have a website, you should see our resource, "Creating a Website for Every Budget." Before you add your cell phone number, consider getting a virtual business phone number if you do not already. Learn more about the benefits of a business phone number. You may only be able to add one phone number at this point, but you can add more later if needed.
After you finish the initial setup, Google will mail you a postcard with a code on it to validate the address you provided. Google does this to verify the business is at that address. Until you confirm your business with the code, your listing will not be public.
Complete Your Business Profile
While you wait for the code to verify your business, you can continue completing your business profile. There are several things you can do. Some things we recommend you do are add your business hours and any special hours you have. Also, add any additional phone numbers you have not already entered. You can add your opening date if you want too.
If you have multiple business locations, you will want to add those too. You must independently verify each location with the code that Google will mail to you.
We would also recommend adding a few photos or videos to your profile. Good pictures to add are pictures of your place of business: both interior and exterior, your company logo, and any other photos you want customers to see of your business.
Add Your Services and Products
Next on the products page, you should add all your products or services you offer, or at very least the most popular. For each product, you can add a picture, name, price (which can be either a set price or a price range), and a description. Additionally, you can add a link to your website where people can learn more.
Download the App
Google provides a free iOS and Android app you can download to manage your business listing from your phone. Search for Google My Business in your app store to download it.
Verify Your Google My Business Listing
After you receive the postcard in the mail from Google, you must enter the code and verify your business's location. After entering the code, your listing will be visible in Google search results.
Manage Reviews and Keep Information Accurate
Make sure to keep your information up to date and respond to any reviews or questions people leave that need your attention. You can do almost everything from the mobile app. We highly encourage you to download it.
Bring Your Listing to the Next Level
If you have a physical location customers visit you at, such as a restaurant or an office, you can add a Google Virtual Tour. With a Google Virtual Tour, people can see what your business looks like before they visit. The tour will be similar to how Google's Street View works on Google Maps.
Customers Call Your Business, Not Your Cell Phone
Tired of using your personal cell phone number for your business? Give your business its own phone number.
No additional hardware is required. Use it alongside your current phone. Customers will see your business number when you call them. Not your cell phone number.
Get started by entering an area code below.