Virtual Phone Numbers For Your Business
Customers Should Call Your Business. Not Your Cell Phone.

Give Your Business What It Deserves.
A Dedicated Business Phone Number
One Affordable Price - Every Feature - $20/month
Use Your Existing Cell Phone
No Additional Hardware Is Required
What Is a Virtual Phone Number?
A virtual business phone number is like any other phone number. You can make and receive calls and have a voicemail. However, unlike a regular phone number, a virtual phone number allows you to have a dedicated business phone number alongside a personal phone number on the same phone. There is no additional hardware required to use a virtual phone number. You keep using your phone as you have been.
Who Would Benefit From a Virtual Phone Number?
There are several groups of people who can benefit from a virtual phone number. The first group of people who can benefit from a virtual phone number is small business owners and entrepreneurs. For this group, having a virtual phone number is vital to their business success and their personal life. Knowing when a call is a business vs. private call, having business hours on your phone, and having a separate dedicated voicemail box is essential.
Another group of people who might want a virtual phone number are those who wish to protect their privacy and prefer to limit the exposer of their real phone number to the public. Then a privacy conscience person would only give their actual personal phone number to family and close friends.
Another group of people who can benefit from having a virtual phone number is anyone who wants a second phone number on one phone for any reason but doesn't want to have to pay an astronomical price.
Benefits of a Business Phone Number
Private Personal Numbers
Keep your personal phone number private and use a business phone number instead
Business Voicemail
Have dedicated voicemail boxes for your business line
Business Hours
When your business is closed for the day, have your calls go to voicemail
We Care About Your Privacy
Your privacy is important to us. We will never sell any of the data you have given us to third parties. We don't sell your call logs, your email address, your personal cell phone number, or any other data you provide us. They stay private with us. Keep in mind while you can get a "free" business phone number, it is not truly free. Those companies are almost certainly selling your call history, email address, cell phone number, and any other data you give them. After all, they need to make money somehow.
Customers Should Call Your Business, Not Your Cell Phone
Tired of using your personal cell phone number for your business? Get your business its own phone number.
No additional hardware is required. Use it along side your current phone. Customers will see your business number when you call them. Not your cell phone number.
Get started by entering an area code below.
Get All These Features & More
Features Every Business Needs!
Unlimited Minutes
Don't worry about tracking how many minutes you used this month. Know you will always be able to receive calls and call your customers.
Call Forwarding
Forward calls to your cell phone or landline when people call your business phone number.
Lifetime Call History
Data is everything. Know who is calling, when, and how long you spend on the phone. We make it easy with call history right at your fingertips.
Custom Greetings
Create a professional phone tree using your own recordings. You have full control when it comes to creating your custom menu, so you are sure to create a smooth experience for your customers.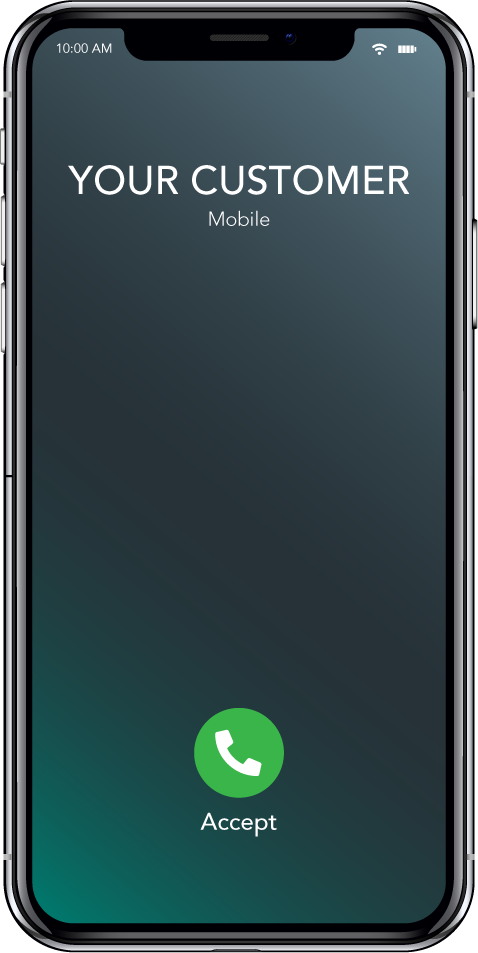 Voicemail
Easy to set up and customizable voicemail options that will always fit your business needs. Short on time? Let us email your voicemail to you.
Business Hours
Take control of your personal and business life with easy to set up time-based call routing. Send the calls where you want them at the times you choose.
Custom Call Routing
Easily create your own custom automated attendants for efficient call routing. We make it easy for any size business to have a fully featured phone system.
Always-On Service
Your phone system will answer phones for your business even while you sleep. You can direct the caller to voicemail, a recording, or another employee.
You will get these features and more with your business phone number!
See All Features
One Affordable Price
You Get Every Feature. Always.
Cancel At Any Time. No Contracts. No Additional Fees.
Features Include

Unlimited Minutes
Unlimited Voicemail Boxes
Unlimited Extensions
Business Hours
Lifetime Call History
Instant Activation
No Contracts
No Activation Fees
Need an Enterprise Solution? Contact us to learn more about our Enterprise Solutions.
State by State Phone Number Information